Vind je onze sets wel leuk, maar stel je hem liever zelf samen, dat kan…
Wij hebben een hele selectie aan losse wandpanelen en accessoires zoals een spiegel of een plankje. Zo kan je naar harte lust jouw eigen wanddecoratie samenstellen. Net als bij onze samengestelde creaties, bepaal je helemaal zelf hoe je de wanddecoratie ophangt. Ga aan de slag met je onze wandpanelen. 
Jouw creatie hangt binnen een mum van tijd aan de wand!
Spiegeltje, spiegeltje, aan de wand...
Upgrade je wanddecoratie met een spiegel om deze functioneel te maken.
Bij veel voorgemaakte combinaties zie je deze spiegel al terugkomen, echter kan je hem ook gewoon los bestellen als extra. 
Upgrade jouw wanddecoratie met een houten plank om bijvoorbeeld wat planten op te zetten of gewoon je favoriete boeken. 
Heel gemakkelijk te bevestigen, te zien bij onze voorgemaakte wanddecoratie en uiteraard ook los te bestellen.
Idem als bij de houten plankjes, zijn deze haken zeer gemakkelijk te bevestigen aan je wanddecoratie. 
Door dit te doen tover jij jouw stylepad om in een mogelijkheid om bijvoorbeeld een jack op te hangen, maar wat denk je van je favoriete schort voor in de keuken. 
Perfect te combineren met de volgende upgrade, het magneetbord…
Nooit meer zoeken naar je boodschappenlijstje (of ervoor zorgen dat je man deze nooit meer hoeft te zoeken)…
Met dit magneetbord heb je een handige upgrade te pakken op je wanddecoratie. Je ziet hem bij een aantal voorgemaakte wanddecoraties maar je kan hem uiteraard ook gewoon los bestellen.
Kort gezegd elastieken. Ideaal om je stylepad om te toveren tot een mogelijkheid om kaartjes en brieven goed te bewaren. 
Oké, niet complete magazine, maar verjaardagskaartjes of gewoon mooie kaarten kan je perfect ophangen. 
Ook deze zie je bij veel voorgemaakte wanddecoraties en kan je gewoon los bestellen in de shop.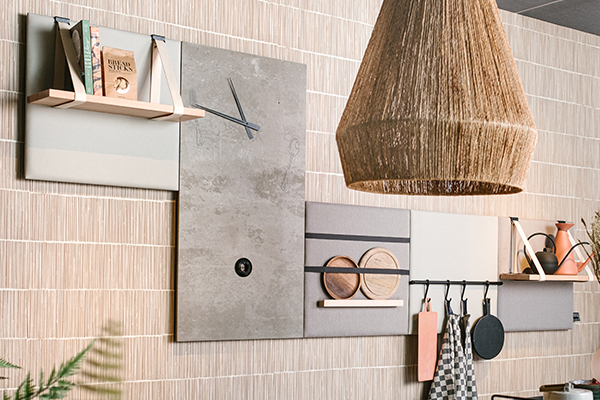 Niet kunnen vinden wat je zocht?
In de Pro Line heb je nog meer opties: